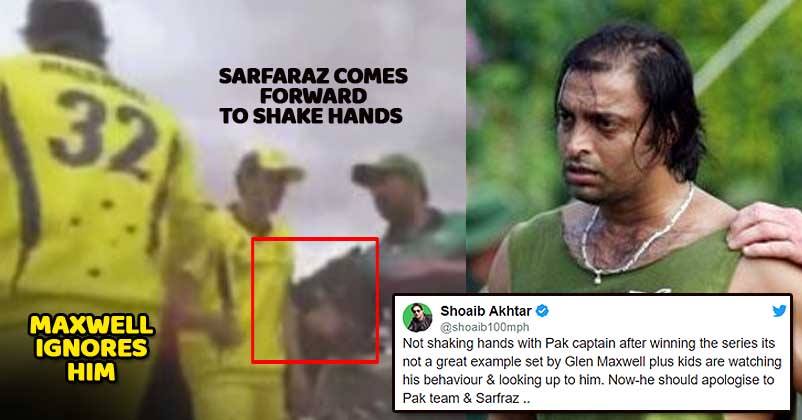 Pakistan cricket team is on the receiving end of a lot of accolades lately. They defeated Australia and Zimbabwe in the latest T20I tri-series and won huge praise from all over.
However, something happened after the Sunday match between Australia and Pakistan which left everyone in bad taste. Pakistan won the match and as it finished, Glenn Maxwell gave a royal ignore to Pak captain Sarfaraz Ahmed and didn't return his handshake gesture positively. Watch the moment below-
This immediately brought Glenn Maxwell in the public scrutiny and he invited strong criticism.
Pakistani former cricketer Shoaib Akhtar also took to Twitter to express his disappointment. He tweeted and demanded an apology from Maxwell for his behaviour. He tweeted-
Not shaking hands with Pak captain after winning the series its not a great example set by Glen Maxwell plus kids are watching his behaviour & looking up to him. Now-he should apologise to Pak team & Sarfraz ..
Meanwhile, Glenn Maxwell has posted a clarification. He took to Twitter and posted a note-
Congrats to Pakistan on their win yesterday, Fakhar Zaman and Shoaib Malik were unstoppable! Sad note to end our tour of Zimbabwe, but still plenty of positives to take out of it. In regards to the incident shown post match, it appears unsportsmanlike, and certainly not the way I play the game. It was a genuine oversight on my behalf and I'm currently looking for Sarfraz, in the hotel to shake his hand and congratulate him and his team for their series win. #wellplayed
Well, All is well that ends well.