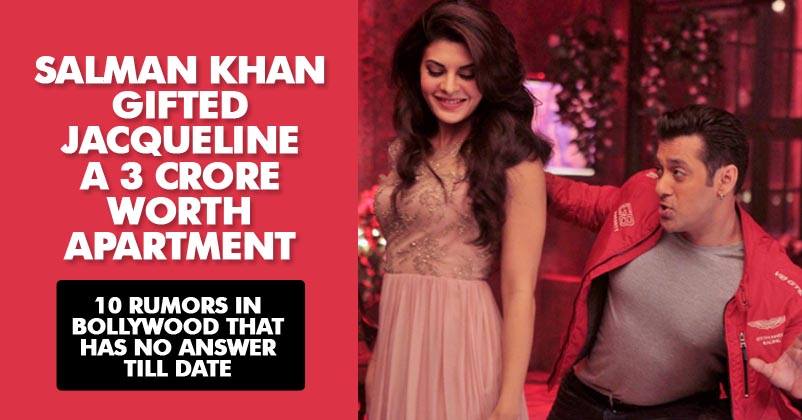 Bollywood is a dream industry for many Indians. The stars and celebrities are not just loved but worshipped by fans. Shah Rukh Khan's bungalow Mannat sees a huge crowd of fans on his Birthday or other special occasions. Same is the case with superstars Salman Khan and Amitabh Bachchan.
Even on social media, the fans run dedicated fan clubs of their favourite stars. It's surprising to see them working day and night on these fan clubs without any benefit. The fact that they get to meet other fans this way and cross exchange the feelings gives them a high.
However, we must admit that even these stars are humans and they don't have that larger than life personality in reality that we get to see onscreen. At times, even these stars had to face difficulties, challenges and what not to survive in the industry.
Today, we bring you some dark secrets of Bollywood stars that will give you a big shock.
1. Aamir Khan & Jessica Hines
Aamir Khan had a love child with British journalist Jessica Hines whom he abandoned later. Jessica had said in an interview that when her son grows up, she will tell her son that his dad didn't like him. The superstar had met her while shooting for Vikram Bhatt's Ghulam.
2. Govinda had an extra-marital affair with Rani Mukerji
While they were shooting for Hadh Kar Di Aapne, Govinda and Rani Mukerji were reported to be having an affair. All this was happening while Govinda was already married. As per the reports, everyone on the sets was aware about the affair between the two.
3. Ranveer Singh was asked for physical favor by a casting director
In an interview with NDTV, Ranveer Singh himself revealed that he faced casting couch in struggling days and was asked for a physical favour by a sleazy casting director.
When he said an outright no to the demands, the man started negotiating with him if he can just touch or if at least he can see.
"Later I got to know what he was interested in. When I said 'no', he was heartbroken like a jilted lover." Ranveer said.
4. Hrithik Roshan hired a life coach after his divorce with Sussane Khan
Hrithik Roshan was devastated after his divorce with wife Sussane so he hired a life coach whose job was to help him concentrate on his work and life. It was reported that Hrithik even paid a big amount for the service.
5. Salman Khan got Aishwarya out from film Chalte Chalte
Aishwarya was the first choice for Shah Rukh Khan and Rani Mukerji starrer Chalte Chalte. The actress had even started shooting for the film but her superstar beau Salman Khan came and disrupted the sets which led to Aishwarya's exit from the film.
In an interview, Shah Rukh Khan said, "A film should be made in good spirits and unfortunately Chalte Chalte didn't start in good spirits. I feel sorry that Ash is not acting in it. I have had some great films with her and I am fond of her. But as a producer, I am accountable to my 11 business partners."
Talking about the relationship with Salman, he had said, "I haven't met Salman for long. The last time I met him, he was rude to me. I apologise to him and his family for having fallen short as a friend."
6. When Shilpa became the reason behind Raj Kundra and his ex-wife's split
Shilpa Shetty was accused by Raj Kundra's ex-wife for breaking her home. Raj's ex wife Kavita alleged that he was so smitten by Shilpa that their reconciliation became impossible. Shilpa, however, denied being a home-breaker and said that Raj was already divorced when she started dating him.
"It actually made me feel physically ill. To be called a marriage-breaker was the worst thing possible. It brought such shame on to my parents, and I felt so bad for their sake," Shilpa was quoted saying by Daily Mail Online.
7. Sonakshi Sinha's resemblance with her father Shatrughan Sinha's love affair Reena Roy
Sonakshi Sinha's resemblance with Shatrughan Sinha's love affair Reena Roy made people think that she is not the daughter of Poonam Sinha but Reena Roy.
8. Kangana Ranaut's affair with Aditya Pancholi and Adhyayan Suman at same time
Aditya Pancholi in an interview said that Kangana Ranaut was having two timing with him and Adhyayan Suman. He also said that Kangana borrowed some money from him.
In an interview, he had said-
"Kangana didn't have a penny when I met her. I saw her the first time on the road. She was on the verge of a nervous breakdown. It was June 27, 2004. She was drenched, and sitting on a bike with a guy from the Asha Chandra Acting Institute. I was supervising the construction of a building. It was pouring. Suddenly she came up and said a warm 'hi' to me. When she said she was 'Kangana', I remembered a mutual friend had asked me to help her when she reached Mumbai. After that Kangana started calling me up persistently until I agreed to meet her. Initially she was a sweet small town girl. I fell in love with her."
He also spoke of how things went from bad to worse between them and narrated an incident,
"I read her sent messages to another actor, while she was asleep. Her messages were certainly not innocent. And I remembered that the words she used for this actor were also used by her when she had called me from South Africa. That was the first time I hit her. We fought and made up."
9. Salman Khan and Jacqueline Fernandez were seen driving off to his Panvel farmhouse
There were reports of Salman Khan gifting a 3 crore flat to Jacqueline Fernandez. Some reports also said that both of them were seen driving off to Salman's Panvel farmhouse.
10. Ranbir Kapoor lost his virginity at 15
In a candid interview with GQ, Ranbir Kapoor said that he lost his virginity when he was 15. He also claimed that he used to have marijuana, cigarettes and drink alcohol.
What do you have to say about this?