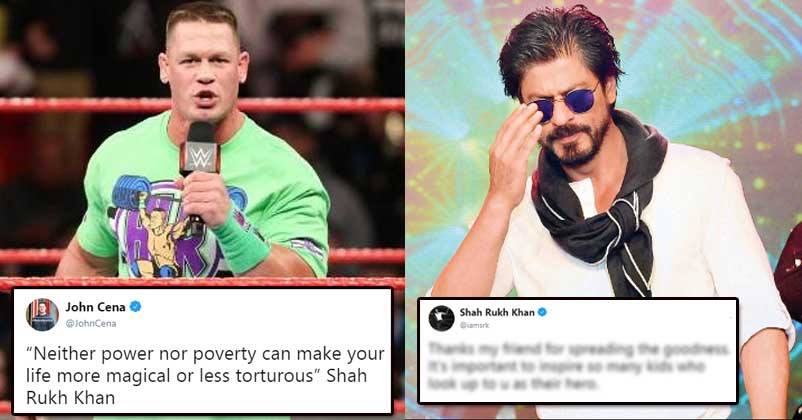 Shah Rukh Khan may not have done any Hollywood film. But he is a well-known personality worldwide. And WWE Star John Cena too is in awe of our King Khan.
John Cena is known for sharing inspirational and philosophical quotes from other people on social media. On Monday, Cena took to Twitter and shared an inspirational quote by actor Shah Rukh Khan from his Ted Talk.
John Cena tweeted, "Neither power nor poverty can make your life more magical or less torturous" Shah Rukh Khan
Shah Rukh was truly impressed by this gesture. He thanked Cena and tweeted, "Thanks my friend for spreading the goodness. It's important to inspire so many kids who look up to u as their hero."
This is not the first time that Cena had shared quotes by Shah Rukh and the two had an interaction on the social media.
Following this, even Cena tweeted;
"Your words and work reach so many. They have helped me smile, laugh, think, and grow. Thank you, for being you."
Last year, Cena shared Khan's Ted Talk. He tweeted, "This was randomly put up in a small article by @theCHIVE very glad i stumbled across it."
Shah Rukh thanked him for taking out time to 'See' it.
To which Cena responded and wrote, "You as well sir. Your perspective on life is one I strive to attain, that, and being visible of course. #Cyberspaceghost"
Cena has also shared quotes like, "It's not necessary that the world will accept your creativity but don't give up on it." Cena has also shared quotes by Shah Rukh on his Instagram.
However, Shah Rukh is not the only Indian celebrity whose quotes the WWE Legend Cena has shared. Cena has also shared quotes by Rahul Dravid.