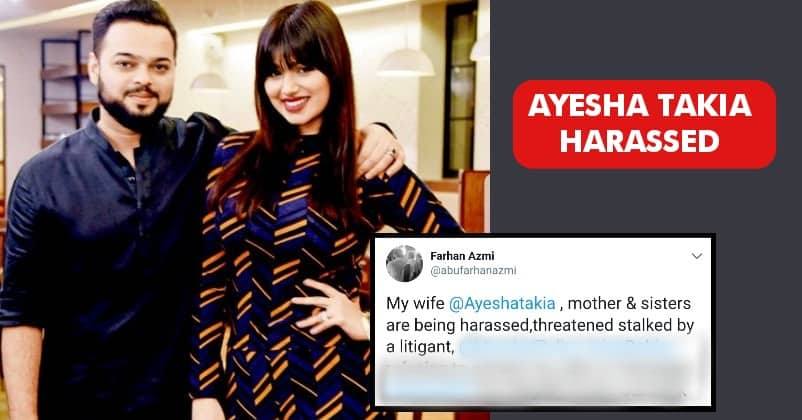 Bollywood actress Ayesha Takia recently had to go through unpleasant experiences as she was reportedly harassed by a litigant. Not only the actress but also her mother-in-law and sisters-in-law had to face harassment.
To make a complaint of the same, Ayesha's husband Farhan Azmi took to the micro-blogging site Twitter. He also stated that DCP Dahiya didn't answer his calls or messages and illegally froze his bank accounts. He also tagged Indian Prime Minister Narendra Modi and Sushma Swaraj in the tweet and used hashtag #betibachao.
His first tweet read, "My wife @Ayeshatakia , mother & sisters are being harassed,threatened stalked by a litigant, @MumbaiPolice #dcpDahiya refusing to answer my calls or messages. #DahiyaIPS has illegally frozen our bank accounts Dear PM @narendramodi ji @SushmaSwaraj Pls intervene!! #betibachao"
In the second tweet, he shared a chat screenshot with caption, "Dear Mr Dahiya DCP ZONE 9, wake up, answer my calls and help us @MumbaiPolice @CPMumbaiPolice @DevenBhartiIPS @narendramodi @Dev_Fadnavis @Ayeshatakia"
In the next tweet, he asked Twitterati to help him get in touch with Mumbai Police to get the matter solved as soon as possible as he wrote, "Dear Tweeple, help us get in touch with @MumbaiPolice @CPMumbaiPolice #IPSDahiya @DevenBhartiIPS @Ayeshatakia"
After some time, he received a response from Mumbai Police Joint CP (Law & Order) Deven Bharti and thanked him for intervening in the matter. He tweeted, "Thank you @DevenBhartiIPS Ji #MumbaiPolice for stepping in. I trust the Mumbai Police. 3 rotten apples cannot spoil #theappletree @CPMumbaiPolice @MumbaiPolice"
It's just one case of harassment and there are many like this. Let's just hope that no plea gets unanswered and culprits get proper punishment so that this world becomes a better place to live for women.