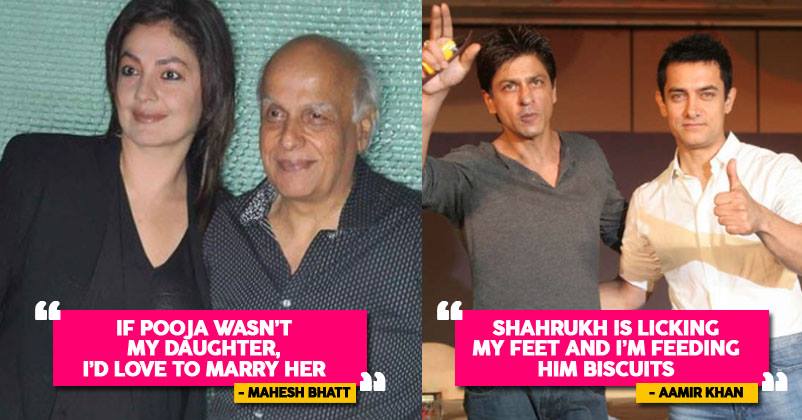 Our Bollywood celebrities are also humans. They too can say anything and express themselves openly. However, the difference lies in the fact that they are public figures. Everything they say or do immediately goes under the scanner. Even statements made by these celebrities go viral, kick-off controversies and make a headline. Here are 10 sensational statements by Bollywood celebrities that sparked off controversies.
1. Aamir Khan's dig at Sanjay Leela Bhansali's Black
While many appreciated Sanjay's work and his movie black. Mr. Perfectionist of Bollywood expressed his displeasure about the film which made headlines.
Aamir Khan said, "I did not like the film. I found it very insensitive. It sends out very wrong signals. It was extremely manipulative. The performances were also over the top."
2. Aamir Khan's dig at SRK
Other than this, Aamir made a statement about romance king Shah Rukh which got him into controversy. He took a dig at Shah Rukh Khan through a blog. He wrote, "Shah Rukh is licking my feet and I am feeding him biscuits every now and then. What more can I ask for?"
3. Sidharth Malhotra's dig at Alia Bhatt
In an exclusive interview with a magazine, Sidharth was asked who would he like to kiss on-screen after Alia. He confessed, "Kissing Alia was Boring, I will enjoy kissing Deepika Padukone!"
4. Jaya Bachchan's dig at Shah Rukh Khan
After hearing that SRK had passed some comments on Aishwarya Rai Bachchan, Jaya Bachchan came out in open to dig at SRK. She said, "I would have slapped Shah Rukh, if he had made an infamous statement about Aishwarya in my presence."
5. Mahesh Bhatt's shocking statement about his daughter Pooja
It was really shocking when it was revealed that Mahesh Bhatt had locked lips with daughter Pooja for a magazine cover. Another statement was more shocking when the filmmaker said, "If Pooja wasn't my daughter, I'd love to marry her."
6. Salman Khan's dig at Sanjay Leela Bhansali
At an award ceremony, Salman congratulated the handicapped achievers and took a dig at Sanjay's film 'Guzaarish'. He had said, "Arre, koi kutta bhi dekhne nahi gaya."
7. Shahid Kapoor's dig at Kareena Kapoor
In an interview, Shahid Kapoor was asked to comment whether he would like to work with ex-girl friend Kareena Kapoor again, He took a dig and said, "If my director wants me to work with a cow or a buffalo, I'm ready to do it."
8. Priyanka Chopra's dig at Kareena Kapoor Khan
While promoting her 2012 movie, Kareena had made a statement that her movie would do better than Priyanka's Fashion. The National award winning actress Priyanka decided to give it back. She said, "Well I guess if you don't have one National Award then it's just sour grapes you know. What do I say?"
9. Naseeruddin Shah's dig at Farhan Akhtar
Veteran actor Naseeruddin Shah commented about multi-talented Farhan Akhtar. He had said, "Farhan Akhtar films are the ones I clearly don't care for."
10. Sonam Kapoor's dig at Aishwarya Rai
On getting compared with Aishwarya Rai during L'Oreal campaings, Sonam couldn't take it. She said, 'Ash has worked with my dad so I have to call her aunty na?'
Do you know of some more?