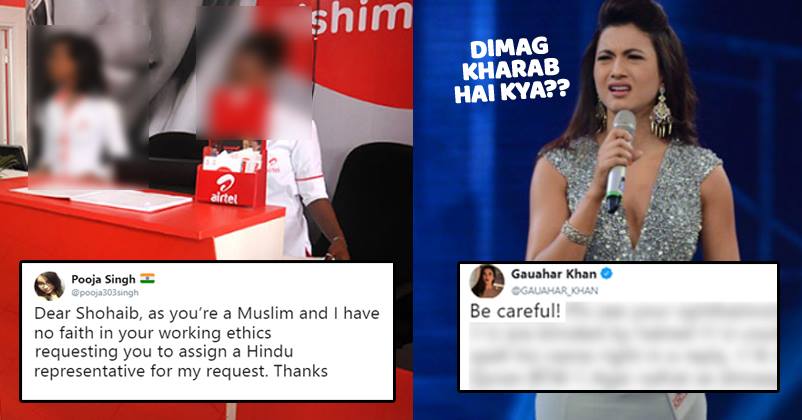 Our country is very secular; however, there are some incidents which make us feel shameful.
One such incident happened yesterday with Bharti Airtel. A user named Pooja Singh complained to Airtel about her network issue.
However, the customer care executive who attended her happened to be a Muslim named "Shoaib".
He was polite enough and attended well to her problems, but she left a very rude reply. She wanted a Hindu representative to attend her.
The tweet read, "@airtelindia pathetic Airtel DTH customer service.I raised complaint for reinstallation of DHT.but assigned service engineer miss behaved with me. His words are "Tum Phone Rakho Dobara call mt krna " his number is+91 79-85195094. This is how Airtel is looting it's customer."
Shoaib replied to her…
However, Pooja said that she needs a Hindu representative.
"Dear Shohaib, as you're a Muslim and I have no faith in your working ethics because Kuran may have different version for customer service, thus requesting you to assign a Hindu representative for my request. Thanks"
Rather than ignoring her, Bharti Airtel happily provided a Hindu representative Gaganjot.
However, the girl's attitude didn't go down well with others. They slammed her and also questioned Airtel as to why it agreed?
On being slammed, Airtel replied;
"Dear Pooja, at Airtel, we absolutely do not differentiate between customers, employees and partners on the basis of caste or religion. We would urge you to do the same. Both Shoaib and Gaganjot are part of our customer resolution team."
Even Gauhar Khan couldn't resist herself from replying to Pooja's tweet;
"Be careful! Pls see your ophthalmologist soon !! U are blinded by hatred !!! U couldn't even spell his name right in a reply, !! N it's the Quran BTW !! Agar nafrat se dimaag nahi kharaab hua hota toh shayad education mein basic spellings toh pata hi hoti!! "
What do you think of this? Airtel shouldn't have done this, isn't it?