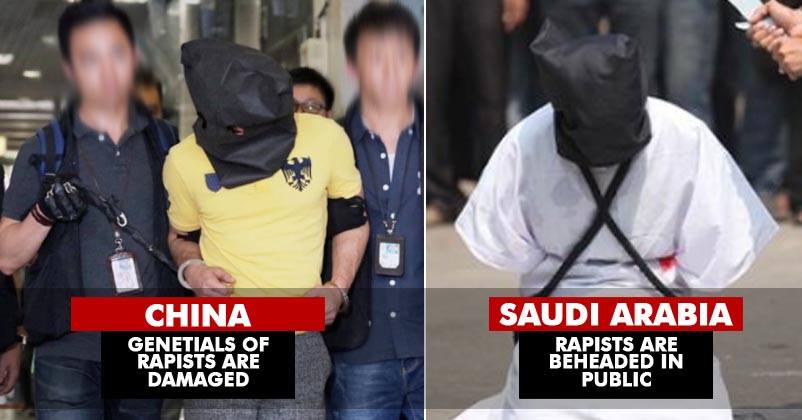 Rape is without a doubt one of the heinous and most evil crimes to do. Whoever gets involved in such a crime needs to be given appropriate punishment. Also, there should be enough security arrangements to prevent such activities from happening.
While India is still getting strict towards rapists and fighting for stronger laws against them, there are many countries who have zero tolerance against rape. These countries consider rape as one of the most offensive crimes and have some really cruel punishments for it. Have a look-
Saudi Arabia has one of the strictest laws against rape in World. They consider rapists as great offenders and hence punish them by sedating and publicly beheading within a few days of the trial.
In the Netherlands, even a French Kiss without consent is considered as rape and can land you in legal trouble. The most beautiful part is that a sexual assault on a prostitute is also considered offensive.
The rapists in the Netherlands are subject to an imprisonment of 4-15 years depending on the damage they have done and their age.
China is also really strict towards rapists as it punishes them with a death sentence. In some cases, they are also punished by damaging the genitals. The problem however with Chinese laws is that there is no proper trial before announcing the punishment. As a result, many people are found innocent after being executed.
In Norway, they consider any kind of sexual activity that is without the consent of partner as rape. The punishment for the rapists is an imprisonment of 4-15 years depending on the harm that has been caused to the victim.
India changed its rape law and made it stricter in 2013 with its Anti-Rape bill. As per the new bill, a rapist will be under imprison for 7-14 years and in rarest of the rare cases can be given death penalty too.
North Korea shows no mercy towards the rapists. A person involved in a heinous crime like rape is shot dead by the firing squad.
The rapists in Afghanistan are shot in head within 4 days or they are hanged till death.
France also has strict laws against rape. A person who commits the crime has to go through 15-30 years of torturous jail term. The time period is totally dependtent on the harm that has been caused to the victim.
The prson involved in rape is hanged till death in UAE.
In Iran the sexual offender is hanged till death or shot to death in public. Sometimes the guilty finds a way out of these punishments by getting permission from the victim but still he has to go through 100 lashes or life imprisonment.
What are your thoughts on it?