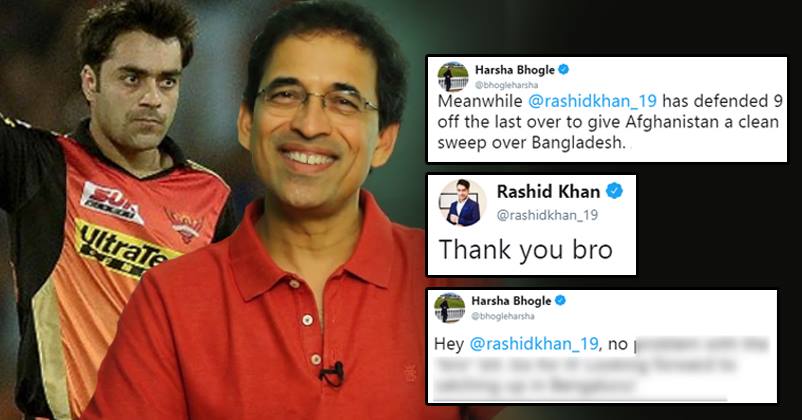 Rashid Khan who is Afghanistan based but World's No.1 spinner is doing wonders on the field these days. During the recent T20I match against Bangladesh, Rashid showed an amazing bowling.
A match that was almost on Bangladesh's side changed the angle towards Afghanistan at last thanks to the fantastic bowling.
As much as he deserves, Rashid Khan got praised by many cricket lovers worldwide. Even famous cricket commentator Harsha Bhogle couldn't stop himself. He took to Twitter and posted-
Meanwhile @rashidkhan_19 has defended 9 off the last over to give Afghanistan a clean sweep over Bangladesh. Amazing result for Afghanistan and further proof of Rashid's phenomenal development
A Happy Rashid Khan replied Harsha Bhogle and tweeted-
"Thank you bro"
After he called Harsha Bhogle, "Bro", Twitterati made fun of him. Have a look at some reactions-
However, Harsha Bhogle intervened and gave green flag to the use of "Bro" word. He tweeted to Rashid-
Hey @rashidkhan_19, no problem with the "bro" bit. Go for it! Looking forward to catching up in Bengaluru!
But looks like Rashid Khan was not going to take any chance this time, so he tweeted-
Thank you @bhogleharsha SIR
Noticed that Sir in Capital letters?