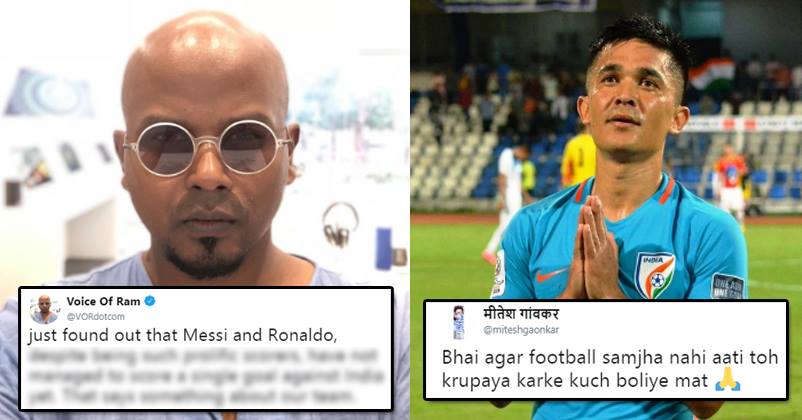 Indian Football player Sunil Chhetri recently hit the buzz with a viral video in which he requested everyone to come and watch their match. The video got a superb response all over and people reached in huge numbers to support Indian Football team.
The team also didn't disappoint and made the supporters happy by winning the match against Kenya.
Sunil Chhetri and the whole team must of course be overjoyed by the positive response of public. However, one person didn't give the desired response.
Ram Subramanian who is quite a personality on social media due to his social activities decided to take a sarcastic dig on Sunil. He posted a sarcastic tweet about Sunil's video for which he got badly trolled by other Twitter users. Here's what Ram tweeted-
Dear @chetrisunil11 Indian football rocks. I just found out that Messi and Ronaldo, despite being such prolific scorers, have not managed to score a single goal against India yet. That says something about our team. Congrats. You have my support. Will try to watch every game.
Twitterati was not happy with this kind of Sarcasm coming from Ram and hence they trolled him. Have a look at some of the reactions-
Being sarcastic is cool but you you must know what you are saying and to whom you are saying. Right?