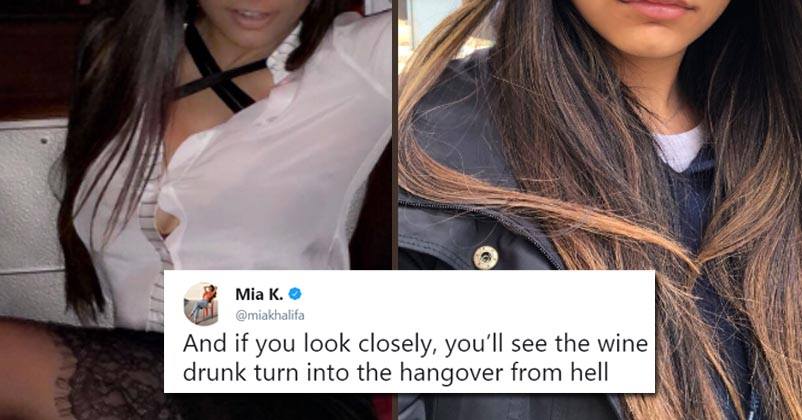 Sometimes, Mia Khalifa's pictures are too hard to resist! She doesn't leave any chance to boost the excitement levels of her fans.
No matter where Mia goes, she never forgets to update the same on social media. Her Twitter handle is filled with her sizzling videos, photos and of course, her hard-hitting answers to trollers.
Looks as if even Mia is a photo-crazy girl; no matter where she goes, getting clicked is her favorite activity. Once again, Mia has posted 2 brand new pics for her impatient fans. This time, they aren't normal ones but are "Hangover" ones. Mia celebrated her birthday on the 10th of February and she partied hard; she celebrated her special day with wine. The actress shared few pictures on Twitter;
Guess these pics were taken when Mia was too high on wine. No doubt, she looks sexy as ever & even guys would agree.
And this one too…
She had even posed with wine before getting high. Have a look at this pic…
And reactions started pouring in;
Wrong move!
You still look gorgeous!
Nose looks red!
Love the look!
All I see is…
Did you fall for her drunk look too?