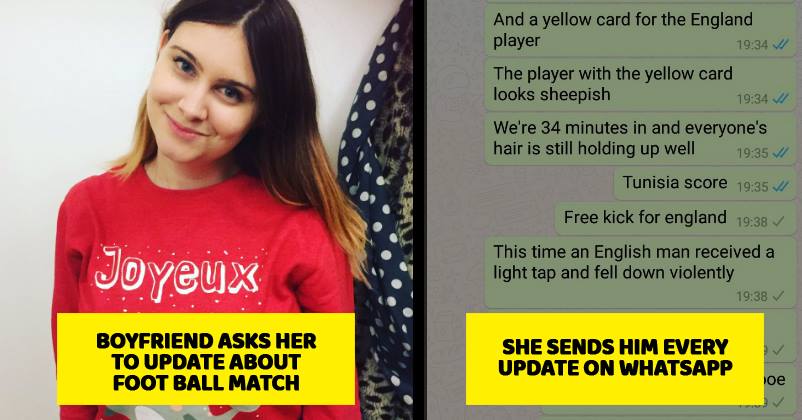 A true fan of sports will never like to miss even a single match of his favourite team if any tournament is going on but sometimes, an urgent work comes up and he has to miss the match. This is almost like a nightmare come true for that fan and something of this sort happened with the boyfriend of a Twitter user @lightningstarr who is a law student from London.
As we all know, the FIFA Football World Cup is going on in Russia and @lightningstarr's boyfriend was coming home from somewhere when the match between England and Tunisia was going on. Her boyfriend was not able to watch the match, so he asked her to send him match updates which she did send on the messaging platform WhatsApp.
She shared the updates on the micro-blogging site Twitter with caption, "My boyfriend asked me to text him updates from the #ENGTUN game as he's on his way home. You can't say it's not accurate. #WorldCup"
Those series of messages which were shared on Twitter have gone viral with many Twitter users praising her commentary skills. Till now her tweet has been shared more than 2500 times and she has become a favourite of sports lovers. Many went on to say that she is a better commentator than the professional ones even!
Check out some selected tweets:
How did you find her commentary? Let us know.