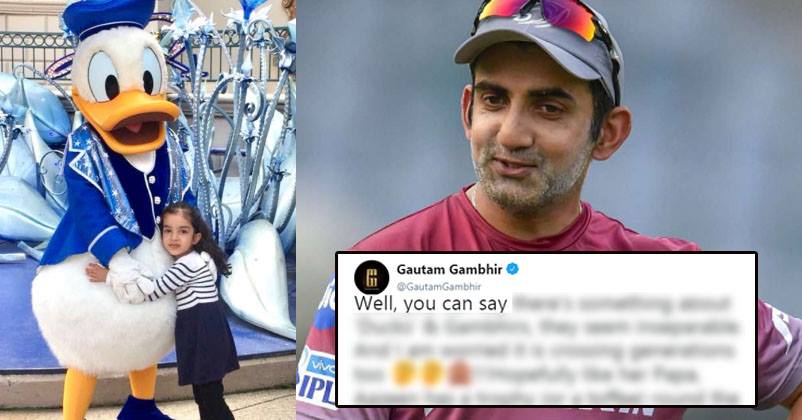 Gautam Gambhir is a very good cricketer but sadly, he failed to perform well in IPL. Owing to poor performance, he voluntarily stepped down as the captain of Delhi Daredevils.
Talking about nature, Gautam has always been very serious. Yes, he's pretty aggressive and we have hardly seen him laugh hard.
However, Gambhir is just serious and angry only on field but when it comes to his daughter, he has a completely opposite personality. Yes, the cricketer has total fun with his daughter Aazeen and forgets all his frustrations when he's with her.
We got to see his humorous side as he shared a pic of his daughter hugging duck in Disneyland. He found a good connection between Gambhirs and ducks. This is what he tweeted;
He wrote, "Well, you can say there's something about 'Ducks' & Gambhirs, they seem inseparable. And I am worried it is crossing generations too !!!Hopefully like her Papa, Aazeen has a trophy (or a toffee) round the corner too #Paris #summerholidays"
Through this tweet, Gambhir indirectly trolled himself for 3 ducks in IPL 2014. Yes, he had got a hat-trick of ducks as a KKR opener. It was in 3 matches against Delhi Daredevils, Mumbai Indians and Royal Challengers Bangalore.
This was indeed a wonderful joke. We appreciate how Gambir sportingly trolled himself for ducks openly on Twitter. What do you have to say?