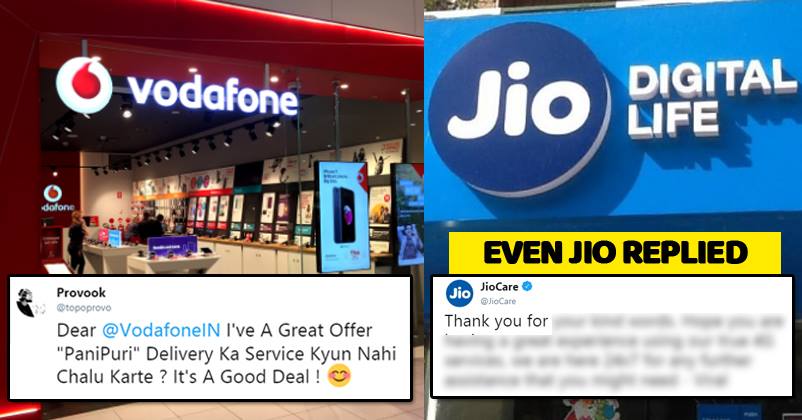 There's no denying the fact that superb entry of Reliance Jio in the telecom market has made it difficult for other service providers to survive and they have suffered a lot. Jio came up with unbelievable data offers with free calls to attract customers.
In a bid to compete with Reliance Jio, other service providers are reducing their tariffs to a great extent; however, they probably couldn't improve the quality of their service. As a result, users are left dissatisfied and one such consumer took to the micro-blogging site Twitter to express his sense of disappointment with Vodafone.
The name of the user is Tapoprovo Dey (Twitter handle – @topoprovo) and he is a resident of Kolkata. He has been using Vodafone for 2 years and as per him, the company deducts amount from main balance without any reason and sets caller tune. Not only this, when he calls on the customer care for complaining, his call is put on hold. What's more, the user gets 2G services even when he recharges for 3G/4G.
Tapoprovo has allegedly faced many such problems and he was so frustrated with their services that he took to Twitter for giving a piece of advice to the telecom operator.
In his tweet, he wrote that Vodafone's network is good for nothing and Reliance Jio has already ruined their market, so it would be better for Vodafone to start delivering panipuri online.
The tweet read, "Dear @VodafoneIN I've A Great Offer For You. Wase Hi Aapki Network Koi Kaam Ka Nahi Upar Se @reliancejio Ne Aapki Pungi Baja Rakhi Hai, Toh Online "PaniPuri" Delivery Ka Service Kyun Nahi Chalu Karte ? It's A Good Deal ! "
In his second tweet, he wrote that even when a customer talks in Hindi, Vodafone's customer care staff talks in English so this also creates a problem in communication.
Here's the tweet, "Ur 1st Mistake ..Customer Aapse Hindi Mein Baat Kar Raha And Aap English Mein Dialogue Maar Rahe ? So How Can You Solve The Problems Of Ur Customers!!"
Reliance Jio tried to avail itself of the situation and asked Tapoprovo to use their services.
Jio tweeted, "Why don't you give our services a try? We will be glad to have you as a member of Jio family. We request you to DM your name, number which you want to port in, email ID, state and PIN code to assist you further – Viral"
To this, the user replied that he is already a satisfied Jio customer and a fan of its services. However, now he will stop using Vodafone as they deduct money without any reasons. He even called them a big thief.
His tweet read, "I'm Already A Satisfied Customer Of JIO And Also A Big Fan Too But Now It's Time To Remove My @VodafoneIN SIM From My Phone…Bina Koi Wajah Payse Kaat Lete Hain Vodafone Wale…They Are Big 'CHOR'"
Jio was happy to know that he's already their customer and tweeted, "Thank you for your kind words. Hope you are having a great experience using our true 4G services, we are here 24×7 for any further assistance that you might need – Viral"
Have you also faced any such problem with Vodafone or any other telecom service provider?