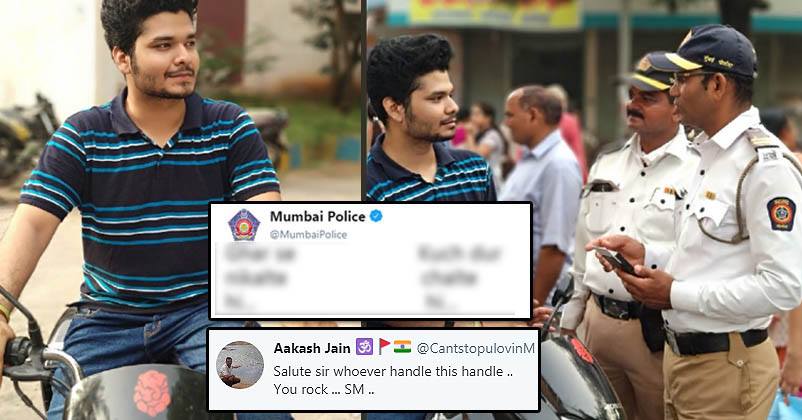 The majority of road accidents take place because people don't follow traffic rules properly and they hardly improve even after paying fine. There's definitely a need of imposing stricter laws to improve the situation; however, we must admit that social media has played an important role in making people more attentive and conscious regarding traffic rules.
Talking about Mumbai Police, they are quite active on the micro-blogging site Twitter and know how to use social media's power to raise awareness among citizens.
Recently, they imparted a vital message through a hilarious meme and left Twitterati and Indians surprised with their amazing sense of humour. In place of making people scare or giving warning, they have come up with a new innovate idea and Twitter is simply loving it!
The Twitter handle of Mumbai Police posted two pics of a guy who was riding a two-wheeler without helmet and after he covered some distance, he was caught by traffic police for not following rules that are made for citizens' safety. They not only fined the man but also took a hilarious dig at him by posting his photos on social media.
The first pic is captioned, "Ghar se nikalte hi" (Just after going out of the house)" while the caption of the second photo is, "Kuch dur chalte hi (After covering some distance)".
Here's the pic:
Check out the tweet:
Social media loved Mumbai Police's style of trolling and imparting such a relevant message with this simplicity and humour. They also appreciated them for making themselves updated with latest trends and putting them to the best use. Additionally, people are impressed with the person who handles the account and can't stop praising him/her.
Check out some selected tweets:
People came up with their own versions:
Mumbai Police is king of humour:
The creative account handler deserves a standing ovation:
And a raise too:
Grateful:
And the award goes to..
Exactly!
In tune with the trending topics!
Kudos!
How did you find the humorous and creative idea of Mumbai Police to make citizens understand the importance of wearing helmet and following traffic rules? Let us know your views.