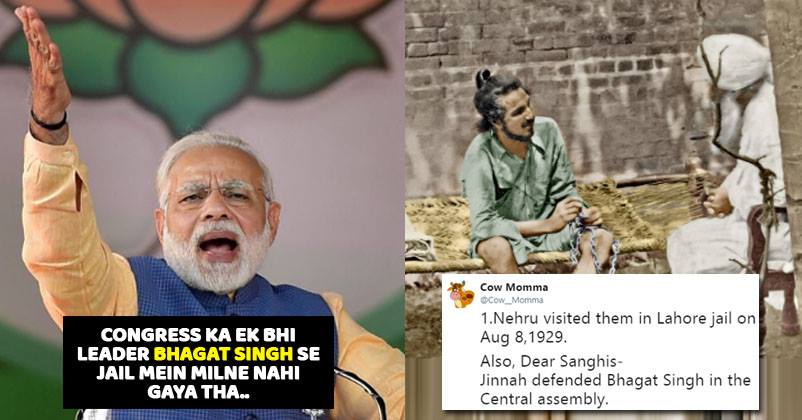 The Congress and BJP are leaving no stone unturned in campaigning for Karnataka elections as the state goes for election on May 12 and the result will be out on May 15.
During a rally at Bidar, the Indian Prime Minister Narendra Modi once again tore into Congress party and launched attacks on the Nehru-Gandhi family. He said that the Congress leaders go and meet corrupt leaders in the jail but no Congress leader went to meet freedom fighters Bhagat Singh, Batukeshwar Dutt and Veer Savarkar when they were locked in jail by the British rulers.
PM Modi said,
"When Shaheed Bhagat Singh, Batukeshwar Dutt, Veer Savarkar, greats like them were jailed fighting for the country's independence, did any Congress leader went to meet them? But the Congress leaders go and meet the corrupt who have been jailed: PM @narendramodi"
However, it seems that PM Modi's statement was incorrect and not well-researched as there are proofs that Congress leader Pandit Jawahar Lal Nehru visited Bhagat Singh and Dutt when they both were in jail for bombing the Central Legislative Assembly. Dutt was awarded life imprisonment while Bhagat Singh was given death penalty for taking life of a British police officer.
Pandit Jawahar Lal Nehru has talked about his meeting with Bhagat Singh and Batukeshwar Dutt in Lahore prison in 1929 in his autobiography "Toward Freedom: The Autobiography of Jawaharlal Nehru".
The first Prime Minister of India wrote,
"I happened to be in Lahore when the hunger strike was already a month old. I was given permission to visit some of the prisoners in the prison, and I availed myself of this. I saw Bhagat Singh for the first time, and Jatindranath Das and a few others. They were all very weak and bedridden, and it was hardly possible to talk to them much. Bhagat Singh had an attractive, intellectual face, remarkably calm and peaceful. There seemed to be no anger in it. He looked and talked with great gentleness, but then I suppose that anyone who has been fasting for a month will look spiritual and gentle. Jatin Das looked milder still, soft and gentle like a young girl. He was in considerable pain when I saw him. He died later, as a result of fasting, on the sixty-first day of the hunger strike."
The Tribune newspaper has also written about this meeting in its edition of 9th and 10th Aug, 1929.
There is no doubt that Bhagat Singh and the leaders of Congress had ideological differences but saying that no Congress leader met them while they were in prison is absolutely wrong.
The official Twitter account of Congress responded to tweet and wrote,
"Dear @narendramodi,
1. Congress leaders' visits & support to revolutionaries are as amply documented as the treachery of your ideological predecessors is. Their lawyer was a"Congressman
2. We never visited jailed corrupt Yeddyurappa or the Reddy brothers
3. Read before you rant!"
Here's the tweet:
A Twitter user @Cow_Momma mentioned that the lawyer Asaf Ali who represented Bhagat Singh was a Congressman.
Twitterati also got miffed with this statement of PM and this is how they reacted:
What do you think? Will PM Modi delete his tweet or not?