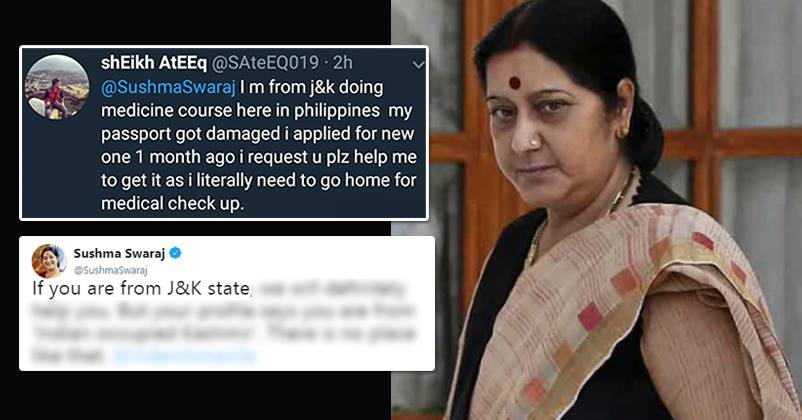 Indian external affairs minister Sushma Swaraj is one of the most respected politicians as she is always ready to help people and Twitter has also played an important role in it.
Once again Sushma Swaraj has helped a person but not before making him correct his mistake on his Twitter profile.
Recently, a student from Jammu & Kashmir asked for help but there was something that didn't go well with the minister. The student named Sheikh Ateeq (Twitter handle – @SAteEQ019) requested Sushma Swaraj for assisting him in getting new passport as his old passport was damaged and he needed to go home due to health issues.
This is what he tweeted,
"I'm from J&K doing medicine course here in Philippines my passport got damaged I applied for new one 1 month ago I request u plz help me get it as I literally need to go home for medical checkup."
Sushma noticed his profile and replied that she would help him if he's from J&K but as per his Twitter profile, he is from "Indian Occupied Kashmir". She replied,
"If you are from J&K state, we will definitely help you. But your profile says you are from 'Indian occupied Kashmir'. There is no place like that."
After this tweet, Ateeq corrected his mistake and Sushma Swaraj asked Indian Embassy in Manila to help him. She tweeted:
1. @SAteEQ019 – I am happy you have corrected the profile.
2. Jaideep – He is an Indian national from J&K. Pls help him. @indembmanila
Here's her tweet:
After this incident, Ateeq deleted his Twitter account; however, we are happy that he has learnt the correct lesson.
Kudos to Sushma Ma'am!