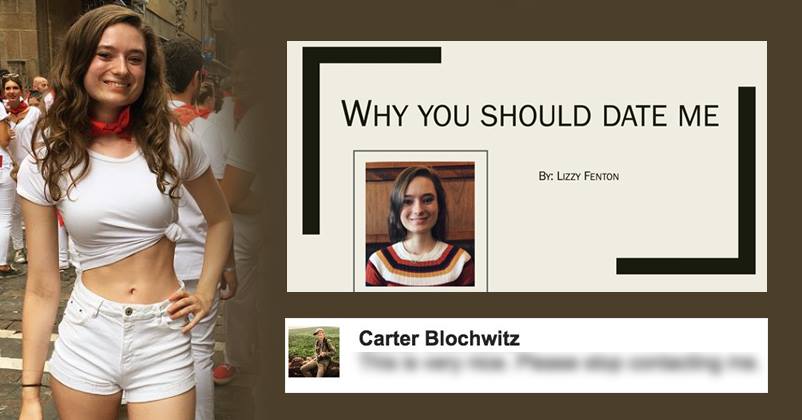 The smartphones and apps have changed our lives to a great extent; from making financial transactions to keeping in touch with our loved ones in different cities or countries, technology has made it easy for us. In fact, earlier people used to get hitched at clubs, discos, parties etc., but nowadays dating starts from various apps such as Tinder and then they meet if they feel that their profiles match.
Lizzy Fenton wanted to propose a guy named Carter Blochwitz and she desired to make it quite special.
We have seen that people either fall short of words or are not able to speak when they have to propose to a girl but Lizzy went on to make an AF PowerPoint presentation in which she tells Carter as to why she is the perfect girl for her. She talked about her physical attributes, financial position and even wrote what her critics feel about her.
If you are a guy and you look at the PPT, we are sure that you must be envious of Carter.
Lizzy shared the proposal on the micro-blogging site Twitter with caption, "I just emailed this powerpoint to my crush Carter do you think it'll work ://"
However, the sad part is that Carter had different plans which had no place for Lizzy. He replied, "This is very nice. Please stop contacting me."
Honestly, we feel sorry for Lizzy but we are sure that she will soon meet her soulmate.