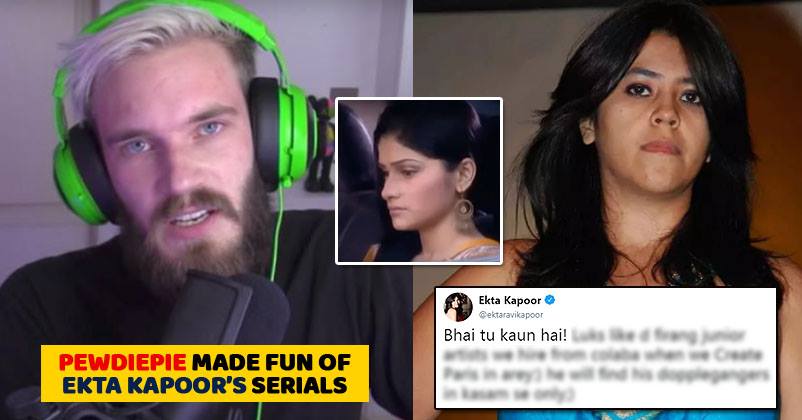 Ekta Kapoor has delivered many superb shows in the past. In fact, her shows have been a favorite of every household.
Even now, there are rumors about Ekta coming up with some new and creative shows. Although many shows have gone off-air, Ekta doesn't like to hear a single word against them. She has been a top name in the TV industry and no one can deny that.
However, a Swedish YouTuber messed up with her recently. We are talking about PewDiePie who has the highest number of subscribers on YouTube. He just happened to watch the title track of Ekta's show "Kasamh Se" and made fun of it.
The title of the video was "Kasamh Se original track (Good quality), however, the quality was blurred and pathetic. He took to Twitter to share the screenshot and mock Ekta about the "Good quality". Here's the tweet;
However, this didn't go down well with Ekta Kapoor. Even she took to Twitter to give him a befitting reply. She trolled him and insulted him like a boss. In short, she saved the face of the Indian TV industry.
Here's what she said;
The tweet read, "Bhai tu kaun hai! Luks like d firang junior artists we hire from colaba when we Create Paris in arey:) he will find his dopplegangers in kasam se only;)"
Every time someone messes with Ekta, she gives it back in style. This time, we loved her humor and are proud of her. Hope PewDiePie doesn't take any further Panga with her.