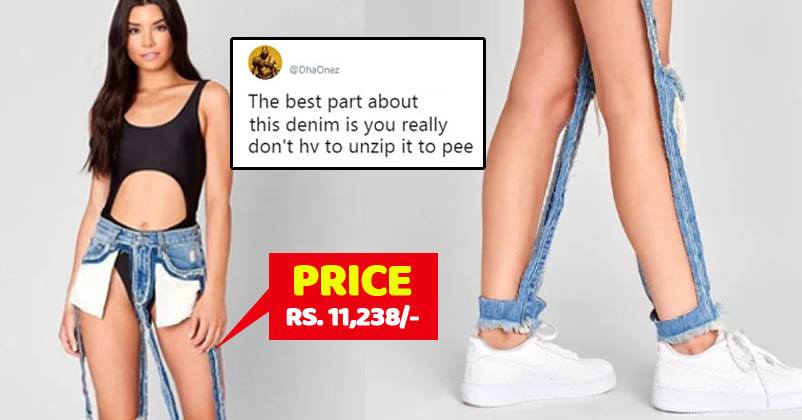 Fashion trends keep changing from time to time; sometimes, we go crazy for things, while at times, we think, "What is this?".
A new style of jeans has hit the fashion market and we are not able to digest the cut. Named "Extreme cut out jeans", this pair has taken social media by storm. Normal denims are good, but this is something "DISASTROUS"
An LA based company has introduced these jeans in the market and it hardly covers the legs. Well, it's totally open and there are no zips or other embellishments whatsoever. Thankfully, they have pockets. After seeing the pics, we kept wondering as to why will people choose something like this.
Well, be ready for a heart attack because we are just going to reveal the cost. This EXTREME CUT jeans costs a whopping $168 i.e. approximately 11,000. Would you pay so much?
Twitter is confused as to how to react; check out some hilarious reactions…
LOL!
No need of unzipping!
What the phak!
Bhat the phak iz Thiz??
Woh bhi saala 168$??

(@Lauh_purush)
Exoskeleton!
Kidding?
Perfect product!
So guys, are you thinking of purchasing denims like these?