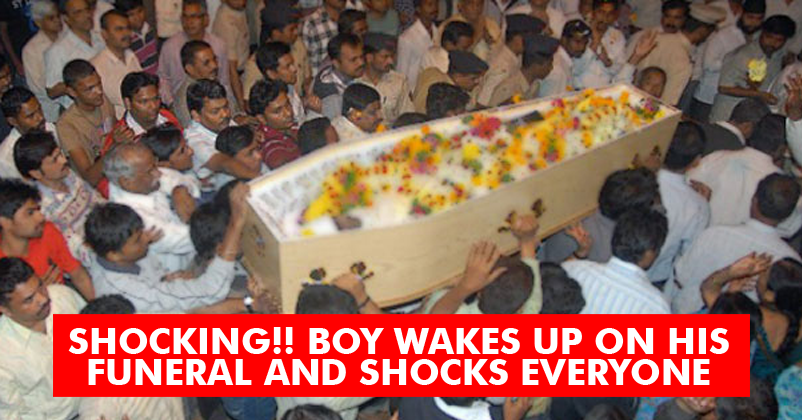 Sometimes we come across few incidents which are hard to explain and believe but at one fell swoop, they are completely true! A similar sort of incident took place in Karnataka when a boy who was considered dead, woke up all of a sudden, leaving everyone in a state of shock and bewilderment.
As per a report published in TOI, a 17 years old boy from Karnataka woke up when he was being taken for cremation as he was mistaken for being dead by his family. The boy whose name is Kumar Marewad lives in district Dharwad, Managundi village, and was bitten by a dog nearly a month back. He was admitted to hospital after he had high fever. Subsequently, his health declined to such an extent that he was placed on ventilator.
Doctors told the family very clearly that the complete body of Kumar got infected and if he was taken off the life-support system, he wouldn't survive. Sharanappa Naikar, Kumar's brother-in-law, told TOI,
"We had decided to take Kumar home after doctors told us his chances of survival were bleak once taken off the ventilator."



When Kumar was being taken home, it was observed by his family members that he was not even breathing and there was no motion in his body so they started preparing for his final journey and told the villagers to arrange for his funeral.
However, when they were 2 Km away from their village, Kumar started breathing fast, opened his eyes and stroke his limbs, giving a shock to his family members and villagers. He was then taken back to the hospital, where he was again put on ventilator.
Dr Mahesh Neelakhantannavar told TOI,
"Kumar is on ventilator. We suspect he suffers from meningoencephalitis, an infection caused due to dog bite."
Kumar may have opened his eyes once again but his poor parents are still worried as they told TOI,
"Kumar stopped going to school after class IX to support us. He used to work as a construction labourer. His elder brother is physically challenged. We need support for his treatment."
Get Well Soon, Kumar!
Do share your views about the article in the comments section below.
All Images Are Used For Representational Purpose Only