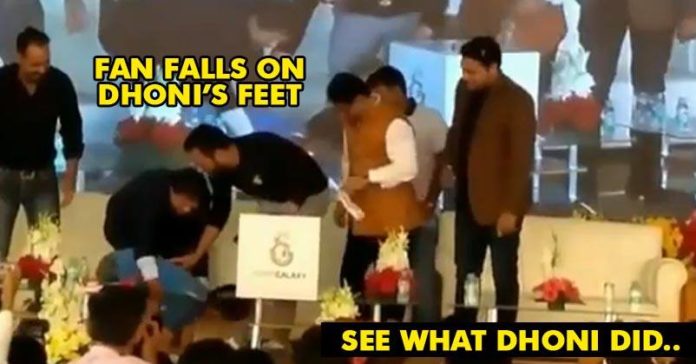 Currently, Mahendra Singh Dhoni is not playing for Nidahas Trophy; this is indeed a great chance for him to spend time with his family. He is not only having some good moments with them but is also concentrating on fitness.
Well, since Dhoni isn't playing in the Nidahas Trophy, he is being invited to many events. In one of the events, Dhoni addressed students and talked abut sports and fitness.
Apart from that, Dhoni also talked about the next World Cup. He said that even though Indians are ahead in terms of sports, they lack in fitness. Dhoni said that even though parents are sending kids to stadiums for playing, they aren't able to push them or motivate them to put efforts.
Amidst this, a fan was called on the stage to meet Dhoni. As soon as he saw the cricketer, he fell on his feet. Many a times, we have seen that celebs avoid such fans, but Dhoni showed a sweet gesture.
He went forward and hugged the fan. Not only this, he even gave him a small gift. We loved the way Dhoni showed simplicity and acknowledge the love & enthusiasm showed by the fan.
Watch the video;
Fan touched MS Dhoni's Feet and Hugged Him

pic.twitter.com/2gMmVerKw9
Click here
to watch the video directly on Twitter.
This incident also shows that Dhoni is indeed a Demigod for a reason. People love him and respect him in every way.
How did you find Dhoni's gesture?