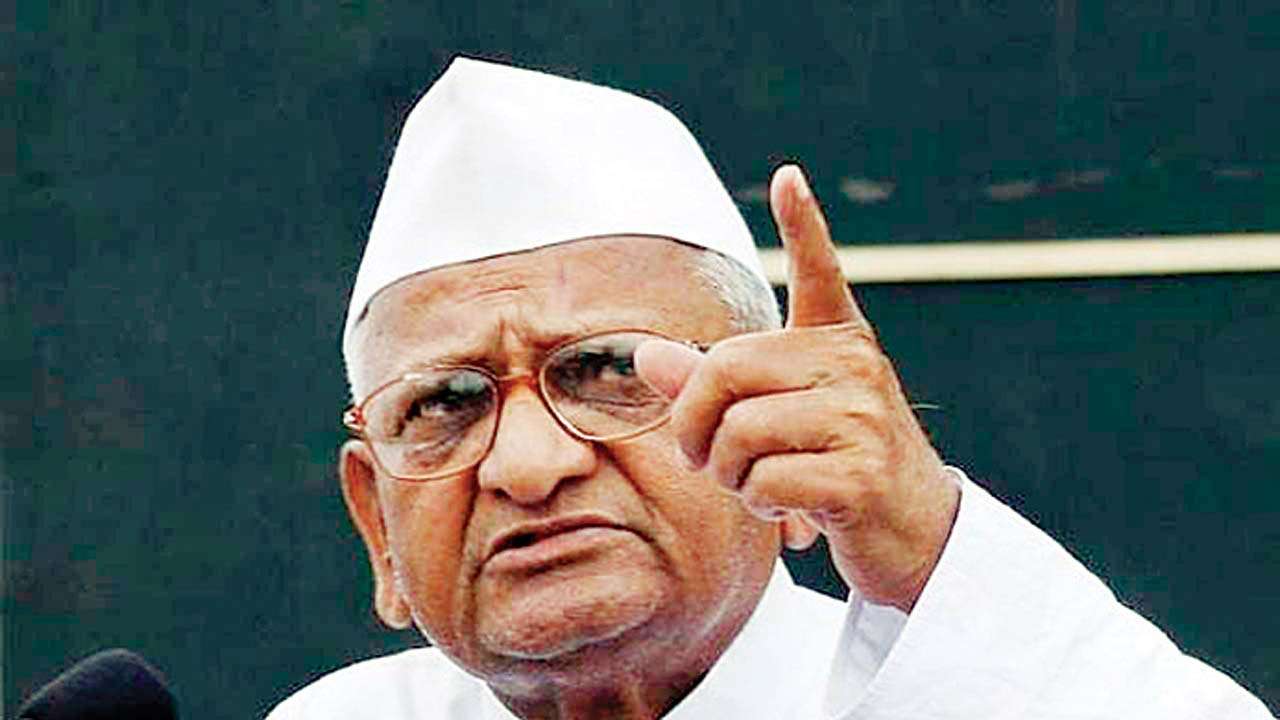 Anna Hazare
Reluctant to let his anti-graft protest warp into a political party as it did seven years ago, social activist Anna Hazare, who goes on a fast unto death on March 23 to press for an anti-graft ombudsman and highlight farmer issues, is making his team endorse undertakings that they will not join politics. He has collected 6,000 of such sworn statements.
The core team managing Anna's rerun of the 2011 protest is full of 20 fresh faces chosen from across the country for their grassroots connections. And they have forsworn politics, Anna avers. He does not want an Arvind Kejriwal or a Kiran Bedi — who left the movement he started to become politicians — in his new team, he has stated. "It is good there are no members from the earlier team. I have made the new members sign affidavits that they will not join politics. Only after they signed these affidavits were they allowed to work," he said, saying he has a total 6,000 avowals from core team members and volunteers.
Of the 20 core members, Shivaji Khedkar and Kalpana Inamdar are from Maharashtra, Colonel Dinesh Nain and Manindra Jain are from Delhi. Others include Rajasthan's Vikram Taparwada Odisha's Akshay Kumar, Punjab's Karanvir Thaman and so on.
Speaking about his responsibilities, Shivaji Khedkar said wheels are in motion for the protest to gather momentum in the capital as well as in other parts of the country: "Each member will be working in Delhi and be connected to their state to raise awareness around the protest."
About the affidavit, he said, "The members are working with Anna because they want to contribute to the country and the social cause. They are not in it for personal gain. They are not interested in joining politics."
Incidentally, observers have said that Anna might not rely heavily on his team to make the protest a success. Activist Vishwambhar Choudhari, who was part of Anna's core team in 2011, said, "Knowing Anna, I do not think he will solely depend on this team. He will pull in the crowds in the capital on his own."
Anna said he had been writing to the Centre to request a venue for his agitation for four months. "I wrote a total of 16 letters to the government but they have not replied to even one. Now, they have woken up and allowed Ramlila Maidan for use."
Aware there isn't as much of a buzz surroundign the protest as there was in 2011, he said, "Once the agitation starts, people from all parts of the country will start coming to the national capital."
CAUTIOUS THIS TIME
Anti-corruption champion Hazare, who goes on a hunger strike on Friday in New Delhi, says he has got 6,000 signed affidavits from his team members and volunteers saying they won't join politics.