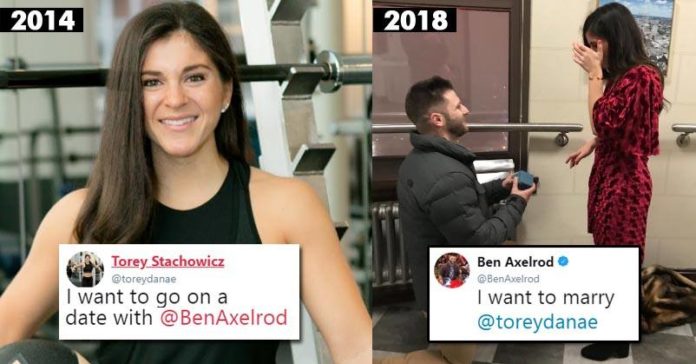 Finding the right person to get married is still a tough job despite the fact that today's generation has a number of dating apps and websites at their disposal which let them know about the people suiting their profile.
However, a person should never stop trying and keep on searching even on other social media networks. In this article, we are going to tell you about a couple who is getting married and the whole credit goes to Twitter, as their love story started on the micro-blogging site only.
It all started 4 years ago in 2014 when beautiful Torey Stachowicz, a personal trainer by profession from Cleveland, Ohio, asked Ben Axelrod for a date via Twitter. Ben, a digital producer and sportswriter, asked her "You buying?"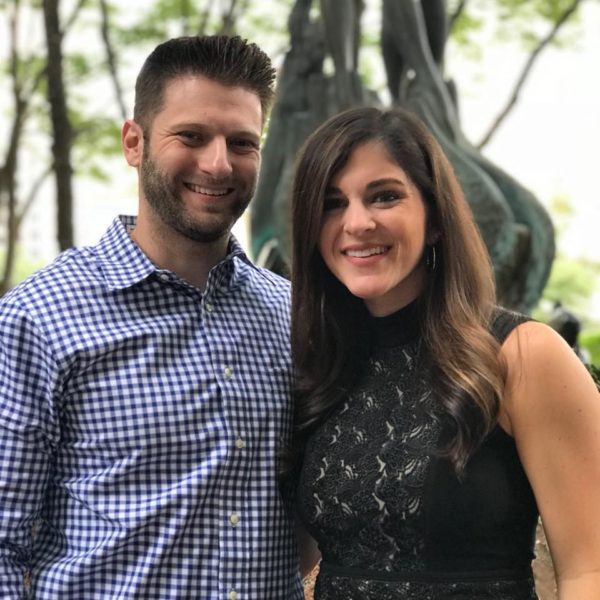 Here's what Ben told,
"I didn't get that tweet until I woke up at about 6:00 a.m. the next morning. I wake up to this alert. Understand I don't get tweets like this one very often! So I responded in kind and we had a back and forth."



Not only Torey agreed to buy but she also gave an option to Ben to decide his favourite place. Ben was not particular about the place but about chicken fingers. And this is how a love story started.
Check out tweets:
Torey tweeted, "I want to go on a date with @BenAxelrod"
Ben asked, "You buying?"
She responded, "Haha yes I will, your favorite place too"
And Ben said, "Nah, if you're buying, you can pick. Just make sure they have chicken fingers."
@toreydanae

nah, if you're buying, you can pick. Just make sure they have chicken fingers.
Torey replied, "Done and done"
As per WKYC, the first date took place at Dublin's Pint Room and it was Ben who paid the bill.
Romance sparkled between the two and on Feb 11, 2018, Ben proposed to Torey for marriage in the same style as she asked him out for date via Twitter.
Ben tweeted, "I want to marry @toreydanae"
He also shared a photo in which he is sitting on his knees and proposing to his beloved.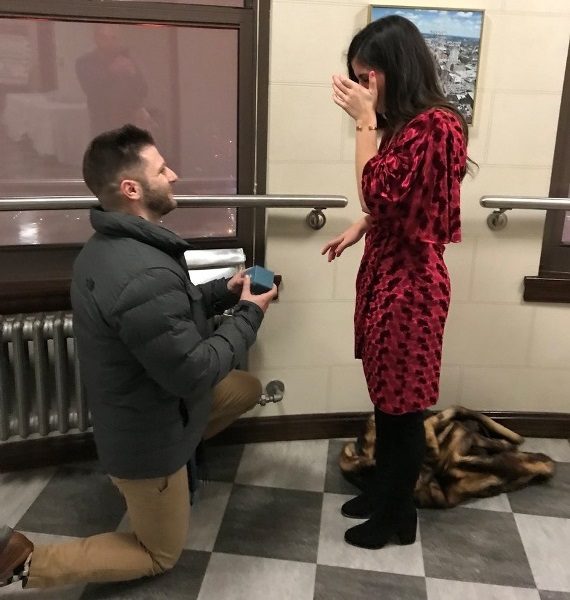 He tweeted the pic with caption, "I bent the knee. She said yes!"
Torey also took to Twitter to let the world know that her "hangover is outta this world" and posted a GIF screaming YES.
My hangover is outta this world

#engaged
And the couple got engaged!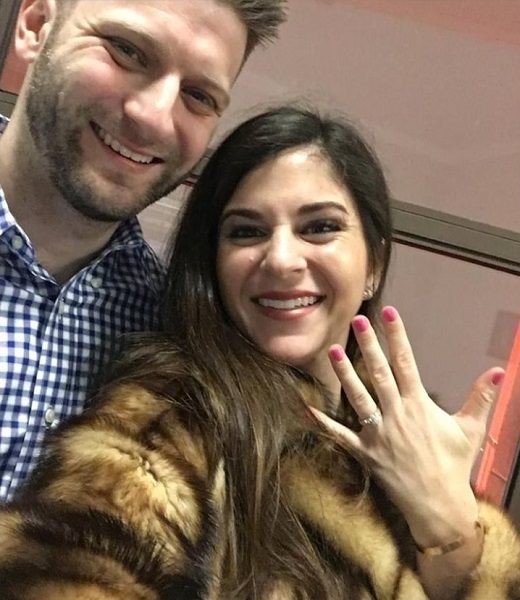 Twitter also loved their story and this is how people reacted:
1.
I'm shutting down for the night because i won't find a better tweet than this. Go out on a high note. Congrats!
2.
Oh my god. Congratulations. So romantic
3.
Holy crap this is just too unbelievably cute! Mazeltov !!
4.
Will there be chicken fingers at the wedding?
5.
Oh wow congratulations! My parents told me to never ask a guy out for a date! But they might be wrong. I need more courage like

@toreydanae
6.
@tahliaparis

My Heartfelt Congratulations 2 you both 4 showing that LIFE IS BEAUTIFUL,in twitterworld,the possibility exists for 2 people to Fall in LOVE, be bound to each other ,completing each other=Relationship Goals,an Uplifting Positive moment-I wish you both great success
7.
Okay let's try this… I want to go on a date with

@russdiemon

I hope it works
What a cute love story! We wish the couple luck for their future.