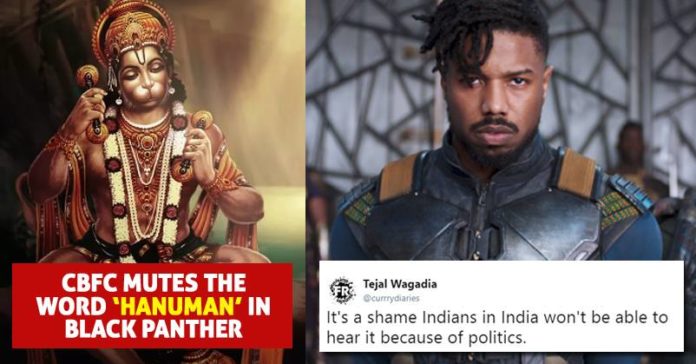 Indian Censor Board has been continuously in news for all the wrong reasons. There were high hopes from new chairperson Prasoon Joshi but it seems even has limitations working a government body.
Coming straight to the point, CBFC has beeped out a reference to Lord Hanuman in the prints of Hollywood film Black Panther for Indian fans. The action has been supposedly taken to avoid hurting the religious sentiments, but Twitterati is angry because there was nothing which could hurt the sentiments.
The said phrase in which the reference to Lord Hanuman has been beeped out was "Glory to Hanuman".
M'Baku (Winston Duke) uses the phrase in the film as he challenges King T'Challa (Chadwick Boseman) to a ritual combat to win the throne of Wakanda.
While the film is doing great business at Box Office and fans are loving it, this particular act by CBFC is leaving them in bad taste. Here's how they reacted on Twitter.
1
FYI – In the 1st fight b/w Tchalla and Mbaku, the latter actually says 'Glory to Hanuman'.

Ironic – it will be heard in every country except India (they silenced the name) thanks to our super-sensitive skin that can't handle anything except Aloe Vera these days.

#BlackPanther
2
It has been muted out. Even the subtitles just say "Glory to".

Perhaps the censor board saw Jabari as antagonists & didn't want to ruffle any feathers by having them praise Hanuman.
3
My heart swole when I heard the reference to Hanuman in

#BlackPanther

It's a shame Indians in India won't be able to hear it because of politics.
4
Yup they censored the word. I for a moment thought they meant Bast…
5
Nope. Bast was for the Panther tribe.

Just silly how we have made fools of ourselves trying to be super sensitive. We can't hear our own God's name spoken by anyone else
6
We are officially the land of outrage. Not surprising at all. They even censored the middle finger shown by Shuri!
7
Can't really blame the censor board on bleeping "Hanuman". There are many groups in India that do paid OUTRAGE on a daily basis and this could've been one of those cases. Just look at Padmavati.
8
I can say a lot of things about the subtle messages in Black Panther. But others have already discussed them. So, just a minor thing for now. Noting a line that appeared in the movie. A fleeting moment but thought it worth sharing:

"Glory to hanumAn"
What are your thoughts on it?