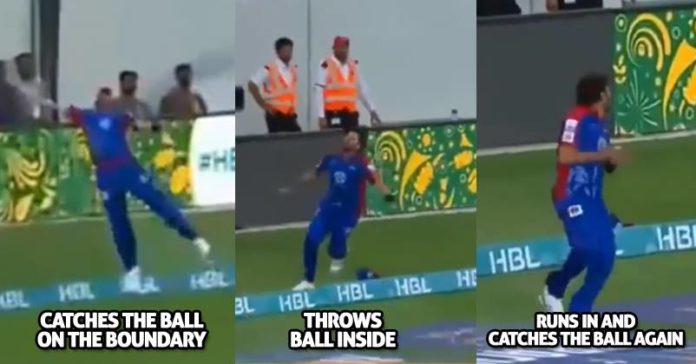 Shahid Afridi has a huge following not only in Pakistan but also in India. Currently, he is busy playing Pakistan Super League. Yes, he is playing for Karachi Kings in the league & we got to see some great performance from himself in the 2nd match of PSL 2018 at Dubai International Stadium.
Today, in a match against Quetta Gladiators, Karachi Kings scored 149 runs. The match got all the more interesting as Quetta had all brilliant batsmen namely Kevin Pieterson, Shane Watson, Asad Shakeef etc. Unfortunately, Karachi defeated them by 19 runs.
What added to the excitement was Shahid Afridi's brilliant catch in the 13th over. Well, when Umar Amin was on strike, he got a delivery which gave him a chance to hit a big shot. However, the height was more than distance and this is where Shahid Afridi came into the picture.
He was standing just near the boundary line and managed to catch it perfectly. This catch was complex and had there were hardly any chances of success. However, he jumped, stretched his hand, pulled the ball again & finally threw it back in time.
We are surprised after watching this video;
Shahid Afridi is truly an ageless cricketer. 21 years after his debut he is still finding ways to entertain the crowd. The catch by him today, without exaggeration, is the greatest effort by a Pakistani fielder on the boundary. He's the real Karachi King!

pic.twitter.com/JRBHPIZvMA
Click here
to watch the video directly on Twitter.
People praised him;
What a catch!
What a wonderful catch..
Falling in love!
Mazhar bhai falling in love with afridi at the last stage of his carre
Age is just a number!
Yesterday Sangakkara with half century, Today Afridi with a stunning boundary catch. Age is just a number for these cricketers.
Catch of Pakistan!
Catch of the Pakistan

.
It's true that age is just a number for Afridi. Even at the age of 38, he has amazing flexibility.