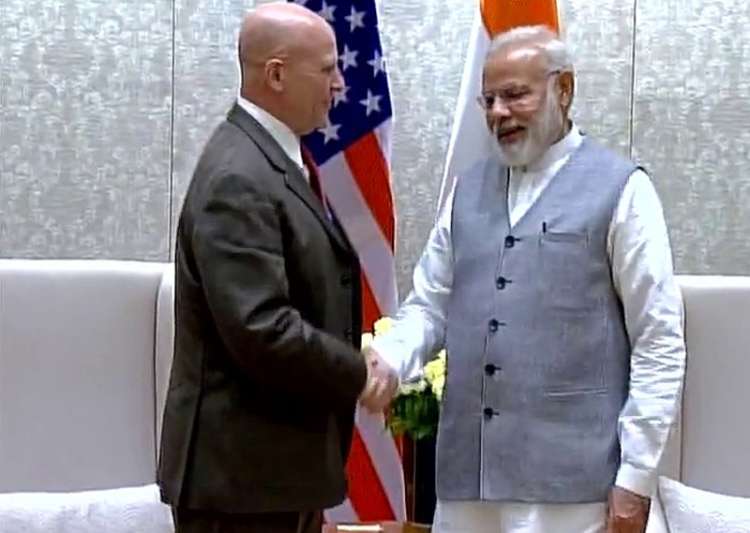 US National Security Adviser HR McMaster, who is on a visit to India, today met Prime Minister Narendra Modi at 7, Lok Kalyan Marg in the presence of senior officials including NSA Ajit Doval and Foreign Secretary S Jaishanker.
The meeting with the PM came after a two-hour discussion with his Indian counterpart Ajit Doval in New Delhi. Mc Master is also expected to meet External Affairs Minister Sushma Swaraj.
According to reports, the Afghanistan situation, Pakistan-sponsored terrorism, Indo-US military cooperation and regional security issues featured prominently discussed between the two.
The two sides also agreed to increase military cooperation and more active information exchange on counter terror operations.
Doval emphasized that terrorism emanating from Pakistan is posing serious threat to regional stability and security.
Mc Master's visit to India comes after holding talks with the leadership of Afghanistan and Pakistan.
McMaster has signalled a more stern line of the US against Pakistan, especially in its efforts to tackle terrorism. During his visit, the US NSA asked the Pakistani leadership to confront terrorism in all its forms through diplomacy and not through proxies.
Yesterday, he met top Pakistani officials in Islamabad including Prime Minister Nawaz Sharif, Prime Minister's Adviser on Foreign Affairs Sartaj Aziz, Army Chief General Qamar Javed Bajwa, Pakistan NSA Lt Gen (retd) Nasser Janjua and Special Assistant to the Prime Minister on Foreign Affairs Syed Tariq Fatemi.