Reliance Jio is on it's way to become the biggest telecom operator in the country. It has done a remarkable job in luring people to its network and looks set to have more than 100 million subscribers by the mid-year. It's services have appealed to the people not only because Reliance has offered it at the price of peanuts but because it will continue to provide them at the price of peanuts, at least for the next 3 months. It also has the fastest network in India according to TRAI and is also venturing into DTH and broadband services.
The company's latest freebie " Summer Surprise" offer has been an instant hit and is providing it's prime users free services for three more months. The 2 basic recharge of Rs 303 and Rs 499 under this offer have a maximum cap of 1 GB internet usage per day, which sometimes is less for many customers. Considering that, Jio has one more recharge amount under which it would provide 100 GB internet without any constraint on daily usage of data.
Any customer who recharges with an amount of Rs 999, will get 100 GB 4G data for 3 months, with absolutely no constraint on data usage. In case you are finished with 100 GB before 3 months, the speed will drop off to 128Kbps.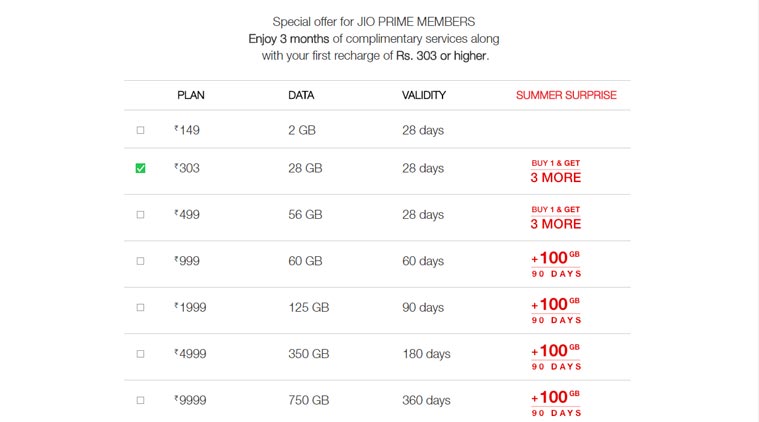 Picture Source: The Indian Express
Reliance had extended it's prime membership deadline till 15th April, 2017 and had released a statement saying, "Every Jio Prime member, when they make their first paid recharge prior to April 15 using Jio's Rs 303 plan (or any higher value plan) will get services for the initial 3 months on a complimentary basis."